Parker Depth Filter Cartridges
parker domnick hunter
If a filter cartridge relies upon particulate removal throughout the entire thickness of filter media it is termed a depth filter. Often the filter media in this style of cartridge is graded in density such that coarse particles are removed at the surface and finer particlate is removed at the typically denser core. This type of product is available in nominal and absolute ratings.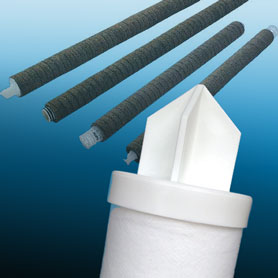 Depth Filter Cartridges – PDF downloads
APPLICATIONS:  ▇ Air & Gas. ▇ Process Liquid. ▇ Food & Beverage. ▇ Pharmaceutical.
| PDF | Product | Application | | | Material | EC Food Compliant | Micron | Length |
| --- | --- | --- | --- | --- | --- | --- | --- | --- |
| | Spunflow QA | ▇ | ▇ | ▇ | Absolute bonded PP or polyester/nylon | | 0.5 - 120 | to 40" |
| | Spunflow QE | ▇ | ▇ | ▇ | High efficiency (99%) melt blown PP | | 3 - 75 | to 40" |
| | Spunflow QN | ▇ | ▇ | ▇ | Nominal melt blown polypropylene | | EU Food Compliant Filters 0.5 - 250 | to 40" |
Your one stop shop for Parker Domnick Hunter Depth Filtration requirements – Prosep Filter Systems Ltd
Call today for advice and a quotation – 01422 377367