Own Brand Products
With over 40 years experience within the field of filtration we have been able to bring together a range of filtration products that we feel offer exceptional value for money and yet still meet the criteria of high performance and exacting standards.
The majority of these products are of UK or European manufactured origin which we feel helps us to maintain and control the standards that we have set. The products that we have available make up a range which is complimentary to the top branded products that we offer.
These products are market driven and offer what we consider to be the best option where performance is important and economics must be considered.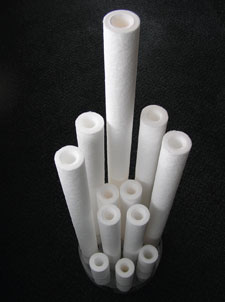 WOUND CARTRIDGES »
Wound Cartridges
This range of UK manufactured precision wound depth filter cartridges are manufactured to give a considerable dirt holding capacity coupled with high flow rates and low pressure loss. These cartridges consist of a perforated support core of plastic or metal onto which yarn is wound at a pre-set rate, providing each rating of element with its own distinctive winding pattern and performance. During the winding process the yarn is usually brushed (or napped). This has the effect of increasing the working area of the elements thus providing a higher dirt holding capacity whilst maintaining the rigid structure. Although the cartridges are mainly for liquid filtration, they can also be employed for gases. Other fibres such as polyester, cotton and glass fibre can operate at higher temperatures and have differing chemical compatibility. For very high temperatures and for very strong oxidizing agents, baked glass fibre elements are used. Glass fibre elements are fitted with voiles and stainless steel cores as standard, other cartridges can also be fitted with voiles where necessary in order to reduce fine fibre shedding.
SPUN BONDED »
SPUN BONDED
Spun bonded Polypropylene – NOW EC FOOD COMPLIANT
New generation spun bonded polypropylene cartridges are the best solution for sediment filtration removing rust particles, sand, silt and other particulate deposits from liquids. High-grade polypropylene fibre is resistant to many chemicals and bacteria growth. Modern technology used to manufacture these cartridges uses fine grade fibres in the inner layers and coarse fibres in the outer layers, this provides accurate true graded density filtration in the range 1 to 100 microns.
Products at a Glance
APPLICATIONS:  ▇ Air & Gas. ▇ Process Liquid. ▇ Food & Beverage. ▇ Pharmaceutical.
PDF
PRODUCT
APPLICATION
MATERIAL
MICRON
LENGTH
Spun Bonded

▇

▇

Pure polypropylene spun bonded
1 - 100
up to 50"
Wound

▇

▇

Polypropylene, cotton or fibreglass on polypropylene or stainless steel core. Standard 65mm dia or 104mm dia (BB style)
1 - 150
up to 40"
Tec Spun N

▇

▇

Nominally rated pure polypropylene spun bonded filter cartridge perfect for general use. Crush fit style double open ended design as standard, end capped options available

1 – 100 microns
up to 40"
TecSpun A

▇

▇

Ideal for membrane pre-filtration or more critical filtration applications. Crush fit or end capped options. Absolute rated pure polypropylene spun bonded filter cartridge

1 – 100 microns
up to 40"
TecSpun HS

▇

▇

Ideal for viscous products where high crush strength is required. Crush fit ends or end capped options. Nominally rated pure polypropylene spun bonded filter cartridges
1 – 100 microns
up to 50"
OilBlock

▇

▇

Typically used on bilge water, but may also be used on waste water applications. A filter cartridge designed to absorb oil from water
N/A
up to 40"
Depth Filters
If a filter cartridge relies upon particulate removal throughout the entire thickness of filter media it is termed a depth filter. Often the filter media in this style of cartridge is graded in density such that coarse particles are removed at the surface and finer particulate is removed at the typically denser core. This type of product is available in nominal and absolute ratings.